Celebrating the fact that it is Macaron Day today we've asked Croatian gastro blogger Ana-Marija Bujić to share some tips and tricks for making these little pieces of goodness.
Ah, the Macarons! My big French cookbook says macarons are of Venetian origin and that they were introduced to France when Catherine de Medici married Duc d'Orleans, future French king. Larousse Gastronomique  says macarons had been created in a convent near Cormery as early as 1791, but it was the ones from Nancy, created by nuns who became known as the Macaron sisters, that became famous throughout Europe.
These colorful beauties smiling at you from the photos are a real culinary fashion. I am not sure how familiar you are with this confectioner's trend, but to me it seems the web is filled with these colorful bites. I waited for a long time to try them out. They looked nice in photos, but I couldn't really get what the big deal was, until one day I walked into what used to be the best patisserie in Zagreb, Vanilla in Branimir Center. They were not the cheapest place in town, but I would rather have one of those beauties  a week than lots of lame ones every day. They had 3 types of chocolate cakes that could blow your mind, boxes of Pierre Hermé chocolate cookies, beautifully packaged fruit jellies and those very tempting little things I never had the pleasure of tasting before – the Macarons. When I saw them there I decided it was about time for my tasting buds to have their say about a confectionery that was already being swooned over by half the globe. You can probably guess what the verdict was, since I obviously ran home in search of a recipe.
My first attempt turned out quite OK. After that I had a series of successful and less successful batches. After that I sort of forgot about them, until one fine day my friend Loreta came completely bewildered – because of macarons. So we set out to experiment together. We tried what felt like a hundred recipes (in reality it was three…or four? I don't know). And we found the one that worked each time. IF YOU FOLLOW THE RULES!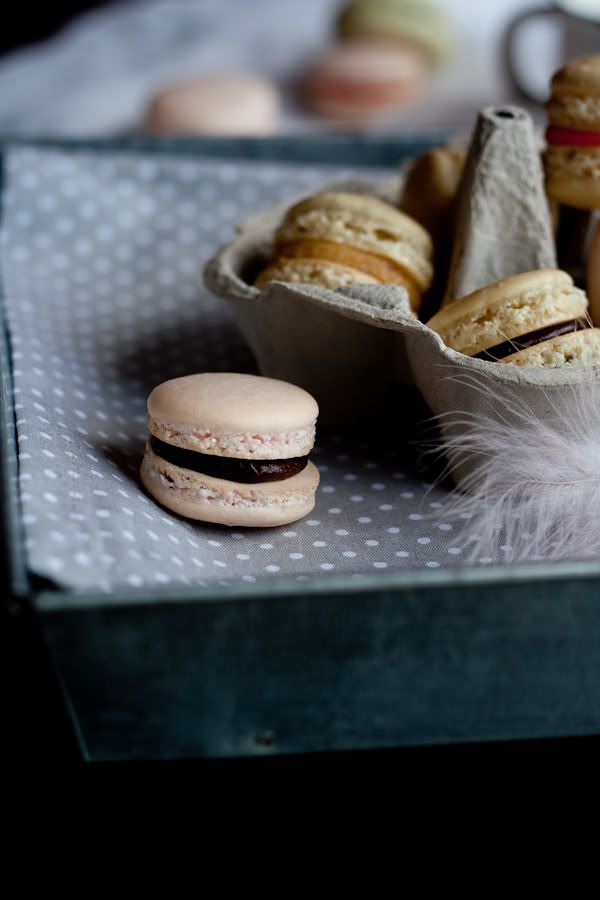 Here is what we learned in the process:
First and foremost: Don't  stress!
And another first and foremost: follow the recipe word by word. There is no place for shortcuts and improvisation here.
The night before leave the egg whites at room temperature, that way they will be easier to whip up into a foam.
It seems like a good idea to me to make the filling the night before and cool it well in the fridge. That way you will have it ready for tomorrow.
Be a geek and check out this video. The most important part in it is where you see what your mixture should look like after you've added the dry ingredients (so-called macaronnage).
Use recipes where egg whites are measuredby weight, that way you will be sure that the size of the egg will not influence  you dry to wet ingredients ratio.
If you want colorful macarons, it is best to use powdered food coloring.
Be sure to leave the macarons to air dry before baking, that way the top will be crunchy and it will be easier for the 'foot' to  form
I will not give you a recipe now, because you can find loads online. I can suggest to browse through Tartelette Macarons because she is the one who rules them all.
Note: This text is a compilation of  two of the posts from my blog (in Croatian): Macarons – sweet, colorful happiness and Macarons (detailed recipe)